My daughter was born a year ago tomorrow.
In honor of this occasion, I want to take a look back at the anxiety-ridden, joyous energy of the night before my daughter arrived and changed everything (for the better). This is an excerpt from a book I'm writing for my daughter, to be presented to her when the time is right. (I have no idea when that will be.)
September 24, 2008
It's 12:43 p.m. and you're not here yet.
So, as you no doubt know by now (or maybe not—only time will tell) your father is writing again.  I'm writing at one of my favorite spots, a local Starbucks coffee shop.  Besides the fact that I enjoy the mocha coffee, (tall mocha, 2%, a little whipped cream on top) I hold this particular Starbucks in esteem and affection because I wrote the first draft and first rewrite of one of my novels here (which at this writing is, after more than 80 rejections from agents worldwide, is currently foundering in a big stack of other hopefuls in an agent's office in Connecticut).
Anyway, I just left work.
By the time you read this—and I have no real idea when I will present it to you—I will hopefully be alive, healthy and still in love with your mother. I think I will be.  If you get this after I have passed away…well, maybe it will be a nice keepsake. Either way, it will give you a peek inside your dear old Dad's psyche or whatever in the years before you reached adulthood—basically the time from when I went from being your Father to your Friend.
Okay, so we've established that I'm writing you, that it's the day of or day before your birth, anxiously awaiting that magic moment when I see your face.
Your face…okay, at this moment, I really hope you look like your mother. Your Mom is a beautiful, elegant woman whose only failing is settling for me as her husband. I hope you look like her (okay, okay, I hope you have my hair. She has pretty blond hair, but she says it is really difficult to style). I, on the other hand, have really nice, manageable hair—or at least I do so far.
I digressed again.  Perhaps this is why my novels remain unpublished.
I have been thinking about you for a long, long time. Since I was a little boy in fact—though you would think I was more of a thinker than a "doer" because it took me 40 years to help bring you into the world. You see, I was kind of an adventurer in my own way—not like a superspy or globetrotting archaeologist, but I did have a lot of experiences in my life, and I wanted very much to absorb as much as I could before I had children. There was also the bit about finding the right partner, which took a while, too. We'll get into all that later.
When your Mother and I decided a year into our marriage to try to get pregnant, I was dubious. I was 39, your mother 36—a little older than most people who try to start a family. The doctors said it might take a while—meaning months or even years.
It took about three weeks.
So, your Mother tells me about 7 months ago that she thinks she's pregnant, and I am flat-out dubious.
"You are not," I said, working on a blog entry, rolling my eyes.
So, your pragmatic Mother bought a pregnancy test. It was advertised as 99.9% accurate, and it said she was definitely with child.
Stunned, I hugged your Mother but also said. "I'll believe it when the doctor confirms it."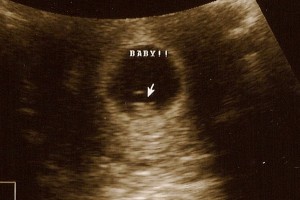 Don't get me wrong—it wasn't that I didn't want you, it was just that all my life I had learned hard lessons about getting my hopes up.
So, when the doctor confirmed it, I was overjoyed, stunned, scared—the whole bit. But I was still in denial.
I would believe it when I saw the ultrasound.
That came about 20 weeks in. I'll never forget that day—we had to go through a round of "genetic counseling" which basically scared the crap out of your parents as every possible genetic mishap imaginable was presented to us with the probability stats as to what our chances were of having a baby with problems.
The ultrasound would clear up a few of the potential mysteries, not the least of which being, are you a boy or are you a girl?
Well, I should tell you that I had been lobbying God pretty hard for the weeks preceding the ultrasound for a girl. When the technician told us that you looked healthy and were definitely a female, I shed the first of what may be many tears on your behalf. This tear was of joy. The ones I'll cry when you are a teenager and dating are a different story.
Guess what, though? I think I'm still a little in denial. I need you to get here. I need to hold your little self in my arms. I need to see your Mother's profile in your face. Then it will be real, only then I will allow myself to feel the joy.
Your Mother has been a trouper throughout the pregnancy. She has been tough, confident and not a complainer. And let me stipulate that I think pregnant women have every right to complain! But she didn't. She was just great–even when I was pissing and moaning about putting your "pack and play" and crib together.
As you're probably guessing by now, this little book is not edited much; it is very stream-of-consciousness. It may bore you. It my fascinate you. I have no idea.
I hope you will be a reader of books in general. If you don't like reading, it certainly won't be because of lack of trying on the part of your folks. We love reading, and I love writing. And you cannot be a writer unless you're also a reader.
I'm writing this for you because this is the best way I know to express myself. I may also be writing it for me to help me figure out who I am now that I'm your Dad.
You're going to learn things about me here that may not always please you. It's never fun when you make the realization that your parents are just humans—prone to mistakes, foibles and foolishness. But I want you to know who I was when you joined us on this Earth, and who I became as you grew and matured—warts and all as they say (though I do not have warts).
Your Mother will also be depicted here as I see her, and more often than not I will probably paint a picture of her that puts her just a rung below sainthood. There's a reason for that. Several actually; first being I love her.  There are many, many reasons why I love her, which will become clear to you when you read the rest of this book, as well as by your daily observations.
She's waiting for me at home right now. We're supposed to see if you decide to come out on your own tonight. If you decide to stay in that warm comfy place, then tomorrow at 6:30 a.m. we are going to the hospital to induce labor; "Come out with your hands up!"
Either way, God willing, you and I will be introduced by Thursday night. I can't wait.
I apologize in advance for my shortcomings. And for dodging that whole "first menstrual period" conversation.
Okay—one more thing before I go to your Mother to wait on you…periodically I will share some things that I enjoy by way of entertainment, literature or music.  Who knows, you may like some of it someday–though my Dad's favorite band was "The Beach Boys," and I only like about three of their songs. However, we both love John Wayne movies and talking politics. Your Mom's Dad is a big Kingston Trio fan. I'm not and neither is she. Go figure.
My favorite bands/singers are (In order!) The Police (you will by now have heard their entire catalog at least ten times by the time you read this); Sting (the Police's former lead singer—he went out on his own and did some great stuff. A lot of the music played in your nursery is by him); The Beatles (probably the greatest band of all time, just not my all-time favorite. Hey, everybody has a favorite for their own reasons); Crowded House; Pink Floyd; Lyle Lovett…and the list goes on. I have more than 5,000 songs on my iPod (that's a device for listening to music). The point is, I love music—though I haven't any musical talent.  So you will be raised in a household with lots of music being played and frequent bad singing from the Old Man. Hope you enjoy(ed) it.
We'll talk TV, literature and other stuff another time.
It's 1:21 p.m. and you're not here yet.
One last thing: Might I just say on behalf of your Mother and I:
Welcome to the world, our family and our hearts, dear child.