Every now and then–and without promotional consideration–your buddy Simon will recommend a product or service that has earned the distinction of being "Simon's Groove Approved."
"What does that mean?" you may ask. It means I like it because it adds to my quality of life–thus another step towards my goal of getting my groove back— and think it will enhance yours, too.
Our first item is a line of sodas sweetened with natural cane sugar, not that high fructose corn syrup crap: Hansen's Natural Cane Soda. They have numerous flavors and no caffeine, as their website boasts: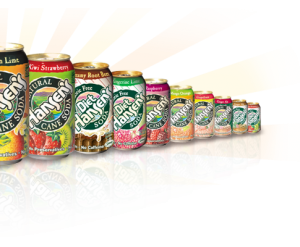 Unlike a lot of other colas, we keep ours completely natural by using real cane sugar and keeping it free from preservatives, artificial flavors, colors, caffeine and sodium. Not only can you taste the difference, you can also see it when you look at how pure our beverages appear (with the exception of root beer, which is naturally brown).
The soda is also gluten and dairy free, which is a bonus for a dear friend of mine who is allergic to gluten.
My favorite flavor is Mandarin Lime–which is not only great straight from the can, but is also a hell of a mix with vodka.
I buy mine by the case at Costco–which is pretty cool when you consider that Hansen's offers a $4 rebate.
So, here's to Simon's Groove Approved Hansen's Natural Cane Soda.
P.S. I'm working on a Simon's Groove Approved graphic. If you're a graphic artist and want a permanent free link on this site, please feel free to design one!
P.P.S. Any of you "blogger ethics types" who don't care for my shameless, occasional (and uncompensated) plugs need to pop the top on a Mandarin Lime soda, mix it with Stoli and chill.